Our Story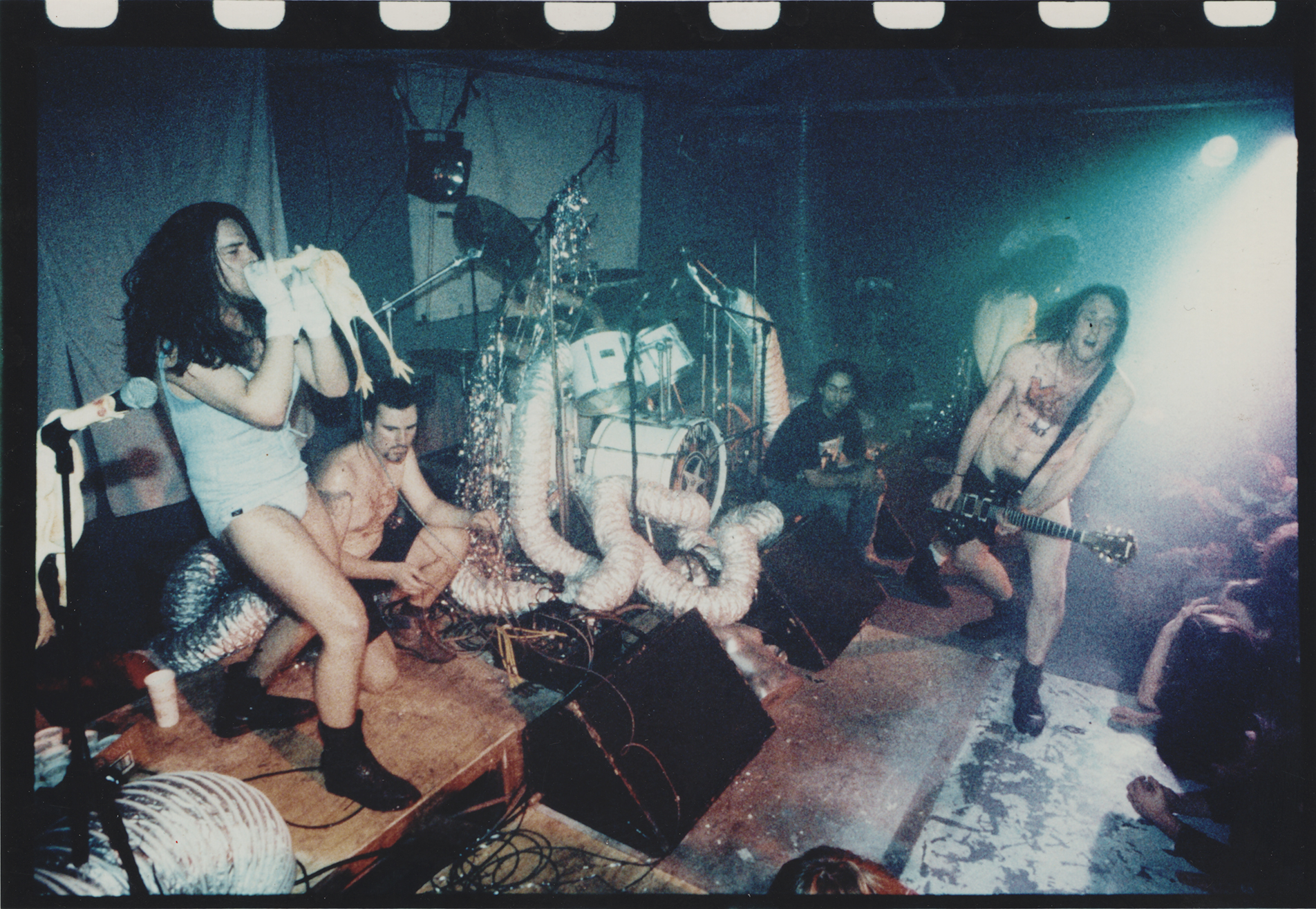 Head Like A Hole tumbled nude, loose and loud out of Wellington in 1990. Soon after pumping out their 'Shitnoise' cassette-only debut, word was spreading about their outrageous live shows and 'fire-aim-ready' approach to life. They were quickly signed by Wildside Records and just like that, the countries most exciting rock n roll band had arrived, blown out your ear drums, taken a dump on the front porch, stolen the milk money, kissed your little sister and bunked off with your push-bike. Off we go!
Over the next decade they travelled at pace, releasing the albums '13' (1992), 'Flick Y'Self off Y'Self' (1994), 'Double Your Strength, Improve Your Health and Lengthen Your Life' (1996) and 'Are ya Gonna Kiss It or Shoot It?' (1998). Constant airplay on commercial and student radio, a slew of stench-ridden "classic" videos and relentless touring saw them build a massive pyramid. Just jokes, they didn't build a pyramid at all – they built a loyal fan-base across New Zealand, Australia and Europe. Their shows were epic, unpredictable and swinging. Crazy-eyed punk-rock-n-roll with a crooked smile and good pants. This wasn't rehashed pub-rock or limp wristed pop schmaltz – it felt like some new rock frontier where Judas Priest met Doctor Seuss and shared a joint. 
If it could happen to a band, it happened to Head Like A Hole. Breakdowns, shakedowns, arrests, demon worship, drugs, psychotic implosions, more drugs, in-fighting, death, financial ruin – select all. If this sounds dangerous, if fucking well was. By 2000 it was all over, the fat lady had sung. A two disk 'Best Of' album was released entitled 'Blood On the Honky Tonk Floor' and the survivors all went their separate ways.
You can't keep a good man down they say, and the same it would seem is true for very very bad men. In 2008 the lads were asked to consider reforming for Vodafone's' 2009 'Homegrown' music festival. Years of therapy, reflection and bingo must have fixed something 'cause the gig was a knock-out and was followed up with a National tour soon after.
Back on the horse (but not back on the Horse), in 2012 they released 'Blood Will Out'. Their first album in a decade was worth the wait, God damn it! With the grunty 'Swagger of Thieves' and catchy-like-the-pox 'Glory Glory (Hallelujah)' proving again that they aren't just a brutal live act but a force to be reckoned/wrestled/cuddled with in the studio. It's rare for any act to find this kind of form, let alone on the gravy stroke.
2015 saw them back in the studio and hotter than a fox in a forest fire - 6th studio album 'Narcocorrido' (Spanish for Drug Ballad) was supported by a national tour and shows in Australia.
2017 looks to be a very busy year for the band with recording well underway for their highly anticipated 7th studio album in addition to the "13" anniversary tour and album re-release.